Mort Brothers Kennels - Idaho American Brittany, Wirehaired Pointing Griffon Breeders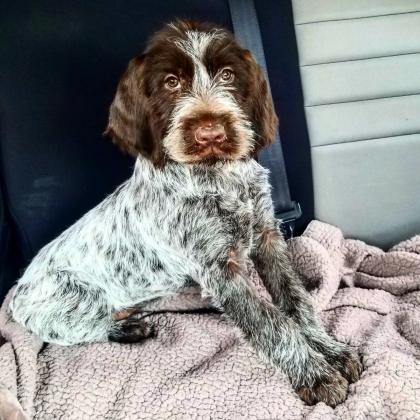 About Mort Brothers Kennels
We are breeders of Brittanys and Wirehaired Pointing Griffons. We raise these dogs with our parents and grandparents to help pay for our college. Our dogs are home raised and handled daily. Our kennel is clean and small in order to raise great family and hunting dogs. We have grown up hunting and love all of our dogs like family.
Our Brittany litter arrived on August 4th and the Griffon litter arrived on August 15th.  The Brittanys are $625 and we are taking a deposit of $200.  The Griffons will be $1200 and the deposit is $400.
Hunting Dog Breeds Raised
American Brittany, Wirehaired Pointing Griffon
Breeder Contact Info
Puppies for sale
Testimonials (2)
Submitted by: Brandon on Mar 19, 2018
I highly recommend you talk to Mort Bros. It was my first time ever using a breeder and they were very patient and professional with all of my questions and requests for photos. We received documentation of our deposit, payment, and the dogs were vaccinated twice at 10 weeks. When we arrived at their kennel it was obvious that this family had been breeding dogs and hunting for generations. The facilities were clean and they hosted a wonderful meet and greet with the Sire, Dam, and the male dogs we were interested in. Sire Goose and Dam Fenway put out some very beautiful dogs with various coats and temperament. The decision was difficult as we teased the provided pheasant wings around their kennel in front of the pups. The dog we chose is an absolute joy at twelve weeks. He confidently completes small retrieves, points birds, is well on his way to housebroken, and kennels cooperatively. We couldn't be happier with Doc and receive compliments regularly. If you want a great looking dog with a temperament to match, Mort Bros. will take care of you.
Submitted by: wendell c murphy on Jul 20, 2017
Bought two pups both in good shape. Kennel was clean and dogs had plenty of room to play and run. Have had them for about a week now and both are full of energy and even showing good interest in birds. Thanks Mort Bro. for some dandy dogs.
Submit your testimonial