Accountable K-9 - Colorado Chesapeake Bay Retriever, Labrador Retriever Breeders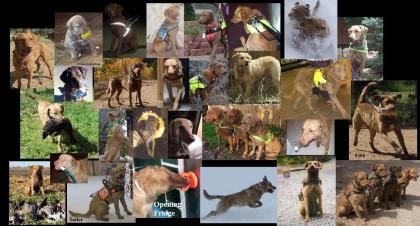 About Accountable K-9
Obedience dog training, Problem dogs and assistance working dogs

As of 05/2017 All Breeding dogs will be DNA health tested by Embarkvet.com

Please call for info 303-838-7398 / 303-598-5864

Planned Chesapeake and Labrador Spring breeding's 2018
***** Reserve your pups now *****
Small Refundable Deposit Required to reserve a puppy
Credit Cards Accepted
Available Chessie Stud dog Wildhorse's Sailor Boy CGC CGCA
DNA clear non carrier of PRA-DM-EIC-MDR1 Von Willebrand disease and Ectodermal Dysplasia OFA hips good and elbows normal / CERF

Hunting Dog Breeds Raised
Chesapeake Bay Retriever, Labrador Retriever
Additional Services
Training, Stud Services
Breeder Contact Info
Puppies for sale
Our Pedigrees
Testimonials (3)
Submitted by: Lisa Burenheide on Oct 17, 2017
I purchased a Chesapeake Bay Retriever from Lou in May of 2017. We have absolutely fell in love with our dog. He is now 8 months old and he is so full of life. I really appreciate Lou's dedication and love for his dog's. Our dog has been a joy to watch grow from a puppy to a lively adolescent. He is smart, confident, independent, spunky, and full of personality. He also has a natural drive for retrieving and loves, loves, loves the water. I would recommend one of Lou's dogs to anyone who wants a great bird dog and house companion. You will not be disappointed.
Submitted by: Dede on Jun 09, 2017
Louie knows dogs. He also is committed to helping people raise healthy, well-behaved companions, your best friend. He can train dogs who have failed other programs and return them to their owners changed for the better. I bought my Labrador Retriever from him, she was a little older and had undergone extensive training including service dog training. Her manners are exquisite. I can take her everywhere and never be embarrassed. She gets along with everyone, including cats. He also helps newbies with puppy things, and is very professional.
Submitted by: Ann Bosso-Johnson on Oct 23, 2016
I got Max on 9/15/2916 at 8 weeks. He is now 12 weeks old and is growing quickly and doing great. This is my first puppy ever and Louie has been great in helping me with raising and training a puppy. Max has a great disposition, easy to house train, handsome and can be a comedian at times.
He has natural retrieve, rather bold, very inquisitive and gets along great with my 16 year chihuaha and 18 year old cat.
I would highly recommend getting a puppy from Louie, Accountable K-9.
Submit your testimonial