Started (Heavily) Female French Brittany - French Brittany Spaniels in Delavan, Illinois - Sur le Delavan Kennel
Reserve / Purchase
Ask Breeder A Question About This Ad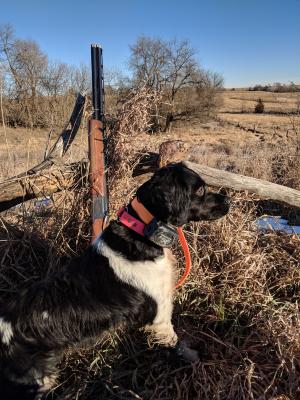 Nat- Nightshade Sur le Delavan TAN WRT $4,000.00 Proven wild bird hunter. Well trained. Outstanding pedigree. Loves people and birds. Hips OFA tested. UKC- TAN and WRT.
THIS AD MARKED AS SOLD
What is a started dog? My answer to this question is pretty standard. Our (Sur le Delavan Kennel) typical started pointer is a fully functional hunting dog that has been trained to hunt (wild) upland birds. And, our started French Brittanys will also hunt for, point, and fetch any upland gamebirds such as quail, grouse, and pheasants. In addition, these dogs have been trained to come, turn on the whistle, kennel and other things. Likewise, they are also gun conditioned and e collar conditioned. Our started dogs aren't 6-month-old puppies that "might" turn out to be good hunting dogs. Ours are proven in at least one hunting season. Have had hips tested, health tested, and UKC Natural Ability Tested for pointing (TAN) and water retrieves (WRT). Our started dogs come with AKC and UKC Full papers - and breeding rights.
Ad location: Delavan, Illinois
Ad created: May 14, 2019
Sur le Delavan Kennel Breeder Information