English Cocker Spaniel Puppies - English Cocker Spaniels in Elmwood, Wisconsin - Cady Creek Cockers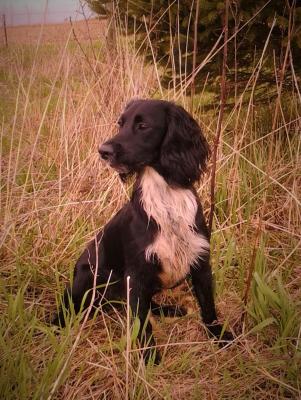 "Coulee" (Cheryls Copper Cady Girl SH CGC X Prairie Marsh McDougal) is super biddable and level headed. A very honest, steady gundog just starting to trial. Great nose with lots of stamina and soft mouth. Excels on grouse/woodcock. 26 lbs. Eyes: Clear, Hips: prelim-good at 23 months, DNA clear/unaffected for EIC, DM, PRA, FN and PFK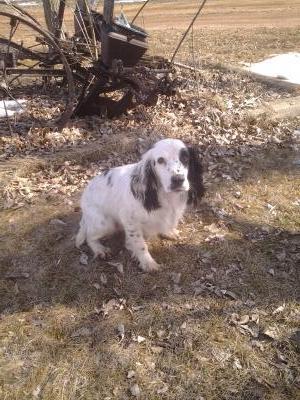 "Tug" (FC AFC Thunderstrucks Sabre the Moment X Divine of Thunderstruck) is a 31 lb. workhorse on wild pheasants in S.W. MN. extremely affectionate, chronically happy! Has placed in all age field trials. Really nice team player. Eyes: Clear, Hips: Good, PRA clear by parentage.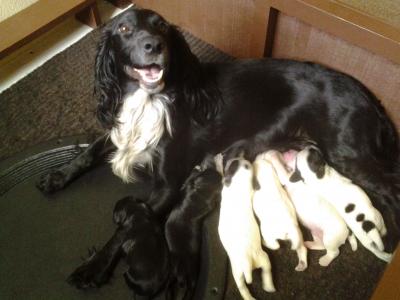 THIS AD MARKED AS SOLD
Cady Creeks Hills and Valleys "Coulee" X Thunderstrucks Keeper "Tug" Pups born 6/1/18 4 males, 2 females. 2 available: a solid black female with white/roan bib and one of two males the color to be determined. Either solid black with white chest or black and white (mostly white, really no ticking just black ears and spot at base of tail). The black pups should look very much like Coulee. References available.
Ad location: Elmwood, Wisconsin
Ad created: May 19, 2018
Cady Creek Cockers Breeder Information