Owyhee Sporting Dogs - Washington Wirehaired Pointing Griffon Breeders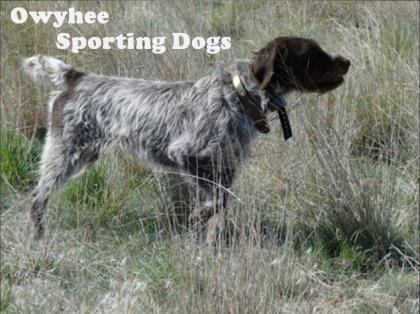 About Owyhee Sporting Dogs
We currently have a new litter due December 1 2021. See us on FB (Wirehaired Pointing Griffon Owyhee Sporting Dogs) timothynemeth@yahoo.com
Hunting Dog Breeds Raised
Wirehaired Pointing Griffon
Breeder Contact Info
Testimonials (4)
Submitted by: Baldguy on Oct 24, 2014
He is the absolute best breeder/trainer I've seen. Bought one of his P litter several years back and am totally amazed at her natural hunting abilities and stamina. Plus she is the sweetest dog I've ever had, except for the cats. She does not like cats!
Submitted by: Mike Mullen on Sep 15, 2012
I purchased a griff from him 3 years ago. He is honestly the best bird/friend I have ever had. I have recommended Tim to other people I know who wants a griff.I will purchase another though him.
Submitted by: Kristen on Mar 06, 2012
We got our first hunting dog from Owyhee Sporting Dogs back in 2010, our pup is a great dog and a fantastic hunter. He has amazing instincts and tons of stamina. He never gives up even after 5-6 hours of hunting. He also a great family dog.
Submitted by: LEO FITZ on Sep 12, 2011
I have two griffons from Tim, they are hard hunters. Both are used on upland and waterfowl.
I expect my dogs to sit in the blind one day and
point upland game the next.
Both tested prize 1 in natural ability with
NAVHDA. Both are house dogs and are hunting family
dogs.
Submit your testimonial