vom Cohansey - New Jersey Deutsch Drahthaar Breeders
About vom Cohansey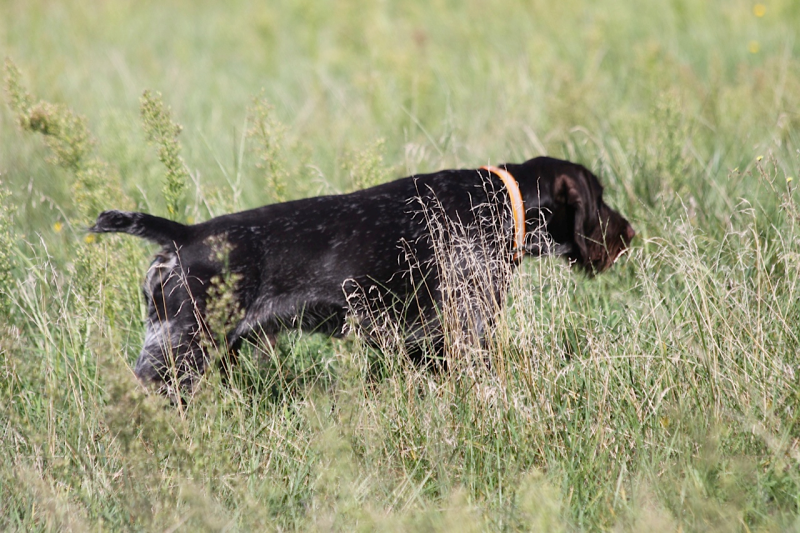 Our goal is to produce serious hunting dogs with extremely good temperament.  These dogs will retrieve ducks and geese all morning, hunt, point and retrieve upland birds later in the day and be right there to do the tracking of wounded game animals for you or your friends at night.  These dogs will also excel in their behavior in the blind, at the bottom of your tree stand or at the foot of your favorite recliner.  My goal is to produce the best combination of hunting drive, natural ability, behavior and independence in hunting, coupled with the ability to hunt in the field with other dogs.  After many years of hunting with a multitude of various breeds, I've found the Deutsch Drahthaar to be the finest hunting dog available.
We offer some of the best breedings of Deutsch Drahthaars available.  These dogs are bred for temperament, hunting drive and natural abilities.  Assistance is available for hunting training and preparation for natural ability and finished dog tests. 
Hunting Dog Breeds Raised
Deutsch Drahthaar
Additional Services
Training, Stud Services
Breeder Contact Info
Testimonials (3)
Submitted by: nick on Oct 25, 2015
I got a male from Joe in December (runt of the litter) some runt 73 lbs. He is doing great!
It's all about breeding. Points and retrieves.
Also loves the water. Good looking dog. Strong and
Driven to hunt.
Thanks
Joe
Submitted by: SHAWN KELLY on Jan 29, 2015
I got a pup from Joe's A litter and I use her primarily for duck hunting October through January. She is finishing her 3rd full season and is a great hunting dog. Her natural instinct and quality build is great. Cold water doesn't phase her, intelligence is outstanding, and her nose is great. Pure hunting machine, even at home!
Submitted by: Richard on Jun 02, 2014
Joe not only produces outstanding Drahthaars he cares as much about the dogs after their sold than before they are placed. He has answered questions day and night via Text, Email or phone when ever I have one. I purchased my first Drahthaar from Joe but it will definitely not be my last. I'm looking very much forward to the next hunting member to join my family!
Submit your testimonial