Snowmagnolia Spinone - Minnesota Spinone Italiano Breeders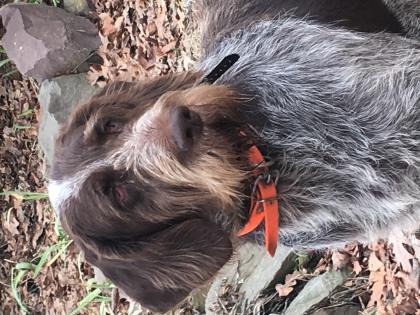 About Snowmagnolia Spinone
To love a Spinone..... Jim and I are proudly owned by seven Spinoni.... All our Spinoni are CA Clear, Eyes Certifified Clear, Hips and Elbows Certified Good. We have two handsome Brown Roan Males..... Quigley Del Subasio, calll name, Quest and To Know and Love Zico Del Subasio, both are directly from Italy.. Quest has his AKC Senior Master Hunter Title and his UKC/HRC Champion Title. We run Hunt Test AKC and UKC/HRC simulated duck, dove and pheasant test. Quest is available for frozen, fresh and natural breedings. Zico is 9 months old .... Happy, playful, sweet natured, enjoying life and training. Our girls..... Siena ... Who has appeared on the cover of Gun Dog Magazine is twelve years old and retired......Siena has her AKC Senior Master Hunter Title, UKC/HRC Championship Title...Siena is the first Spinone to run the UKC/ HRC National Grand Championship, twice. Siena has also appeared on the cover of The Gun Dog Magazine.;We are thankful that Siena shares her bed with us.... Cello is our Orange Roan female....What a beautiful sweet face....Cello is energetic, loves the water, birds and is becoming our care taker of our Spinoni. Making sure everyone is where they should be. Zaffi is a Brown Roan Female....She is a happy, happy, loving rambunctious, vocal, one speed... all out Spinone. Giana also a Brown Roan Female...G�Gi is quiet natured, loving and such sweet natured.... Last our Brown Roan Female, To Know and Love Zingara Del Subasio, 9 months old. A litter mate to our Zico. Zingara... Independent , happy.... a little stubborn and loves the birds.... We raise and train our Spinoni as family members and to hunt. We run AKC and UKC/HRC Hunt Test. We are in Minnesota during April to November, then we spend the rest of the year in Louisiana. We will have a litter of puppies this fall... Quest and Cello... If interested, email or give me a call. Thanks much, Polly
Hunting Dog Breeds Raised
Spinone Italiano
Additional Services
Stud Services
Breeder Contact Info
Our Pedigrees
Testimonials (4)
Submitted by: Russell and Sandra Brown on May 17, 2021
Polly is truly a breeder of the highest quality. Their breeding and training facility is clean and efficient while retaining a friendly, homespun feel. We were treated like family and shown hospitality and friendship. We were encouraged to spend the night at their home and given many opportunities to play with the pups. Polly also took us into the field to exercise the adult dogs affording us an opportunity to watch the parents at play. She was a wealth of information about the Spinone breed. Waiting for us was a gift bag of fun as well as practical items. Our chosen pup, Ruffino, is healthy, social and about the cutest thing walking around in fur! He talks with his soulful eyes. Polly has given us a cherished family member and we are honored to call her our friend.
Submitted by: Amber Garrison on Jan 19, 2020
We were fortunate enough to get a puppy from Snowmagnolia Spinone. Our puppy is calm, sweet, very smart and so much fun! He is so handsome, and people can't get over how adorable he is! One thing I love about our puppy is his great eye contact. Even at 12 weeks old he was constantly checking in and looking to me for direction. While I am not a hunter, I can imagine this trait would be very helpful in the field. He is picking up on obedience extremely quickly, and he loves everyone he meets. He is in excellent health--such a sturdy little guy. Jim and Polly are great to work with, and how much they care about their dogs and puppies is evident. (Their puppy care gifts were by far more than what anyone would ever expect! So generous.) They were also very gracious in doing part of the driving to meet us so that we didn't have such a long drive.
I highly recommend Snowmagnolia Spinone. The spinone is a wonderful breed--and Snowmagnolia is an awesome breeder. We couldn't be happier with our puppy.
Submitted by: Sherry Durst on Apr 06, 2019
I am extremely happy with my beautiful puppy from Snowmagnolia's first litter. Polly has raised Regina with love and it shows. Regina's mom, Gi-Gi is a daughter of Winterborn. Her sire, Quest, is a lovely Italian import with an impressive hunt record. Regina is sweet, potty trained, and already my new driving buddy. She gets along with everyone she meets and is incredibly smart. I would absolutely recommend Polly to anyone looking for a Spinone puppy.
Submitted by: Michael A Houfek on Mar 07, 2019
We were so lucky to have found our spinone puppy at Snowmagnolia. First about the puppy. He has very good hunting instincts at 8 weeks! It's amazing to see what great genetics do in a dog. He is a very happy and intelligent dog. He was nearly completely potty trained when we got him. We were invited by Polly to stay at their house if we would drive to pick the pup up. We all agreed not to ship the dog if not absolutely necessary. We were treated better than family as we enjoyed our stay with them. The kennels were absolutely incredible and cleaner than most kitchens. The dogs all have an indoor environment and allowed outside many times.The puppies were spoiled rotten! Polly was so organized with more than could be imagined with the needs for a new puppy. She supplied everything to get us started with the very best care for Linus. There is not one thing that could have been better with our experience with Snowmagnolia. It has been an awesome experience getting our new family member!
Submit your testimonial