Christy Lee's Training - North Carolina Field Trialing, Flushing, Hunt Testing, Pointing, Retrieving hunting dog trainers

About Christy Lee's Training
Training & Obedience I offer in-home, personal one-on-one training services for you or your family. My services include: - Basic obedience done through positive reinforcement such as sit, here, lay, heel and stay - Advanced obedience done through positive reinforcement such as retrieving and tricks like shake, roll over and speak - Starter training done through positive reinforcement for Upland Bird Dogs and Duck Hunting My services range from $25-50 per hour plus travel time, with a three hour minimum for travel distance. All training is done with non-abusive training methods and Clicker Training! Visit my website at www.adoggio.com to learn more about what I do. You can also find us on Facebook at(Be sure to send us a friend request so you have access to all pics and videos: www.facebook.com/englishsetters
Dog Training Available
Field Trialing
Flushing
Hunt Testing
Pointing
Retrieving
Christy Lee's Training Contact Info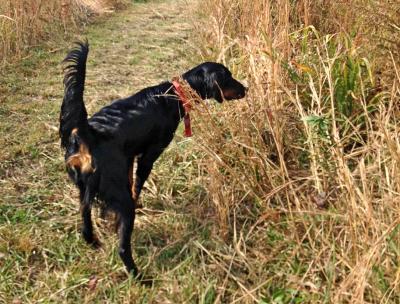 Meet Rosie, she is a Gordon Setter that Christy Lee found for Mr. Tim Hardin through breeder relations through adoggio.com. She got a late start in training and missed out on her imprinting stages. She has been trained with positive re-enforcement and clicker training. She is very soft and will need more work on retrieving and whoa commands. Christy Lee will be working with Rosie and Mr. Hardin to finish her training. She has a beautiful point.
Testimonials (1)
Submitted by: Bob and Klari Tedrow on Jan 04, 2013

We have spent many hours with Dog Trainer Christy Lee. Christy displays a genuine and insightful enthusiasm for her craft. She spent time with us, gratis, to assess our Vizsla, Jozsi's, current skills and abilities as well as our personal goals for him. She was able to answer our questions and made cogent helpful suggestions that enabled us to start working with our dog immediately in a purposeful, goal directed manner. We were well pleased that she shared our enthusiasm for the kinder, gentler clicker method of dog training and Jozsi and Christy instantly took to each other. As we observed Christy in the field with our dog and we noted her admirable patience and attention to detail. She displayed a keen insight into dog behavior and was able to develop almost instant rapport with our dog. We were quite pleased to watch her train and direct our dog into behaviors that are the necessary prerequisites for a successful field/gun dog. We have been working on our own with our dog using the suggestions and techniques Christy provided and are very well pleased with the results. We hold Christy and her training methods in high regard and wholeheartedly recommend her services. Thank you Christy.
Bob and Klari Tedrow