Vizsla Puppies 2 Males and 1 Female Available go home 7/21 - Vizslas in Oswego, New York - Hatszel Kennels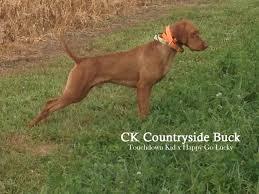 Countryside Buck Full Younger Brother to NCh NFC MVSDCh Am FC DC Ck Touchdown Guy Buck is has field trial placements and is off to a good start.
This is an awesome breeding between Hatszel's Bib Tittler Stella JH and Countryside Buck Full Brother to number one dog in Country 9xCH 5xRUCH 2xNFC NAFC DC AFC Ck Touchdown Guy. These dogs will be excellent in the field with plenty of go and sweet personalities in the home. Will make excellent field trial and hunt test dogs. Good hunting lines Open House July 7th 11:00 AM to 1:00 PM Pups ready to go home on July 21st. Pups are sold by order of deposit.
Ad location: Oswego, New York
Ad created: Jun 13, 2018
Hatszel Kennels Breeder Information
Pedigrees
Hatszel's Bib Tittler Stella
Ck Countryside Buck