AKC GSP Pups - German Shorthaired Pointers in Barnesville, Georgia - Buggytown Birddogs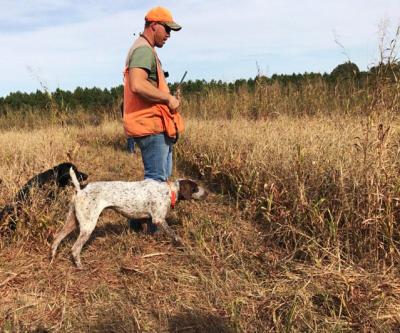 FC Royalerun Sam Adams at work! "I have hunted FC Royalerun Sam Adams on multiple hunts, both over clients and personally. FC Royalerun Sam Adams is a high drive, bird finding machine. Even under the toughest conditions Sam always comes up with a bird. He is rock steady on point, displaying both steadiness and style on every covey. After the shot retrieving is second nature to Sam."
Beautiful white & liver GSP pups! There are 3 males available and they are FC sired, and possibly the last litter he will sire. I have thought about keeping the boys for a while to see about which one to NOT sell, but I don't have much room.... so here they are! Puppies were born December 4, 2017. They have had their first shots and, of course, tails and dewclaws are done. They have had several dewormings. They are located in Barnesville GA and if we must ship, buyer is responsible for all costs incurred for shipping, paid in advance, which will be quoted before pup is to ship. Pedigree for pups, pictures of pups, and pictures of parents are included in this post. There will never be another litter at this price from us! Please, if you are replying about a specific puppy, mention Boy 1, Boy 2 or Boy 3 (I will mark the pictures as to who's who!
Ad location: Barnesville, Georgia
Ad created: Feb 09, 2018
Buggytown Birddogs Breeder Information