Yellow/Foxred Lab Puppies- Excellent Pedigree - Labrador Retrievers in Ranger, Georgia - Bailiwick Retrievers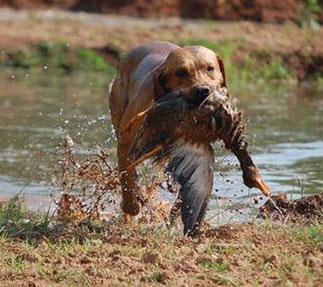 Kimber/Whiskey Puppies are due the first week in January. This is the fourth breeding producing awesome puppies. Please check pout this pedigree AKC and UKC strong.
Kimber is a beautiful, loving, smart 64 pound female. She will put a smile on your face, retrieve is her middle name and at the end of the day lay at your feet. Devoted and smart, a combination that is unbeatable. Her Grandfather is NAFC FC AFC Candlewoods Ramblin Man along with two other National Champions in her pedigree.
Whiskey is a strong 65 pound foxred male. He has a very strong HR pedigree. His Grandfather is a Grand Hunter Retriever Champion and Great Grandfather a Grand Master Hunter Retriever Champion. He is the total package very strong desire to please and a very loving personality. He received his Hunter Retriever Champion title and Master Hunter title.He is a wonderful hunting as well as family companion.
Please visit our web site for additional pictures, pedigree on Whiskey and Kimber as well as information about Bailiwick Retrievers. Feel free to call us with questions.
Ad location: Ranger, Georgia
Ad created: Nov 20, 2017
Bailiwick Retrievers Breeder Information