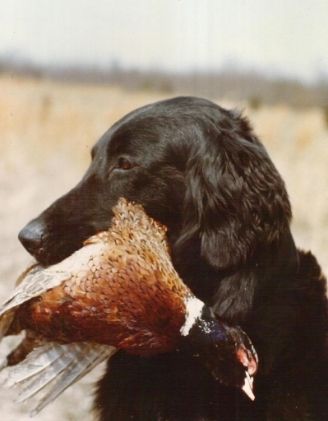 The Wyndham-Wyndhamian Flat Coated Retrievers began in 1953, when the then 10 year old Ed Atkins received a mature FLATCOAT bitch, that had been acquired in England by a relative. This flatcoat and a Chesapeake bitch, were Ed's constant companions and first hunting dogs. Today, more than 60 years later Ed is still surrounded by quality working retrievers from both breeds. The breeding program has demonstrated over the years that flatcoats can be bred to work and work very hard for more than 12 shooting season. Here in March 2014 one of the kennels flashiest workers, now a bit frailer and aged has celebrate her 15th birthday. A month later her very hard working daughter was 10 years old. Since 1953 flatcoats owned by this kennel have lived an average of 13 plus years and worked an average of 12+ shooting seasons.
To be a quality flatcoat a dog must demonstrate the ability to work early as a pup, Peak physically and as a worker between 6 & 7 years old and be able to work past 12 years old. Adhering to these essentials when selecting breeding animals and carefully rearing, nurturing, testing and constantly monitoring the basics affield is clearly demonstrated by the very high level of work provided actually hunting wild upland and waterfowl by the dogs in the home kennels. Further, great pride is taken by the satisfaction other owners have received from flatcoats bred here and their decedents. The selection process that provides this sort of stock now includes up to 18 generations of flatcoats, owned and or bred. by Ed Atkins, an avid hunter, breeding to produce the best possible working flat coated retrievers for over 60 years.
CAREFUL SELECTION, RIGID TESTING WITH CLEAR CUT GOALS TO PRODUCE
1. HEALTHY FLATCOATS
2. SOUND FLATCOATS
3. DURABLE FLATCOATS
4. LONG LIVED FLATCOATS
5. CALM FOCUSED AND EASY TO TRAIN FLATCOATS
It is the norm in this breeding program for all puppies to be reserved well before matings occur. Those sportsmen wishing the very best breeding and rearing for a flat coated retriever bred from work proven ancestries are advised to contact Ed Atkins by email or phone as soon as possible. Puppies from this breeding effort may be reserved by approved and suitable buyers with a 50% deposit/down payment which is not refundable. When the buyer is notified that a suitable puppy for the buyers wishes and life style is available the balance of the purchase price plus the cost of a veterinary health certificate (required for any puppy acquired from this kennel) will be due.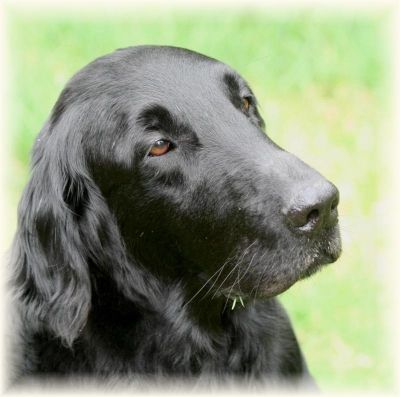 NORWEGIAN & SWEDISH CH. TARPILLENS BOGART
The sire of this planned litter will be the outstanding Norwegian dog, TARPILEN'S BOGART, via frozen semen. Bogart lived in Norway and represents a unique crossing of high quality families. Bogart himself was a calm focused dog that lived about 13 years as did his sire, dam, grand parents and great grand parents as well as many of their siblings. His sire was the outstanding Black Bowie and his mother came from England and represents line breeding to the late Patience Lock's Halstock breeding and several crossed to Wyndhamian animals born in England in 1971. Bogart has proven himself an outstanding sire as has his son Wyndhams Kubla Kahn. A son of the latter was recently the sire via frozen semen of a lovely litter in Norway. Bogart was DNA tested and found to carry only the black color genes.
The dam of the planned litter will be the seven year old Scottish bred import, FARADORN PRETTY PEACHIE. Peachie is a very happy but calm flatcoat that is the care giver to all of the dogs in the kennel. Sweat natured but a strong personality she has been a mainstay on the shooting team and in two previous litters has produced high quality workers. She comes from purely working retriever stock but like Bogart traces to Wyndhamian dogs from the litter born in England in 1971.                                           
ANYONE WISHING TO INQUIRE ABOUT PUPPIES FROM WYNDHAM-WYNDHAMIAN LITTERS MUST PROVIDE THEIR FIRST AND LAST NAME, WHERE THEY LIVE, A HOME TELEPHONE NUMBER, EXPLAIN THE NATURE OF THEIR INTEREST IN ACQUIRING A FLAT COATED RETRIEVER AND PROVIDE WHAT EXPERIENCE THEY HAVE HAD WITH THIS BREED OF DOG OR OTHER DOGS. THANK YOU FOR YOUR INTEREST BUT PLEASE BE CERTAIN TO INCLUDE THE REQUESTED INFORMATION LISTED ABOVE!!!
Direct Email Address
ndbirdfinder@yahoo.com
Telephone Number 701-205-4070