Our Final Litter Of 2014, Ready For New Homes Now

1 Orange Roan Girl "Forli" Still Available ~ Pictured At 15 Weeks
---
---
Lady of Forli
~ Bringing Home the Monkey ~ All Muscle ~ 15 weeks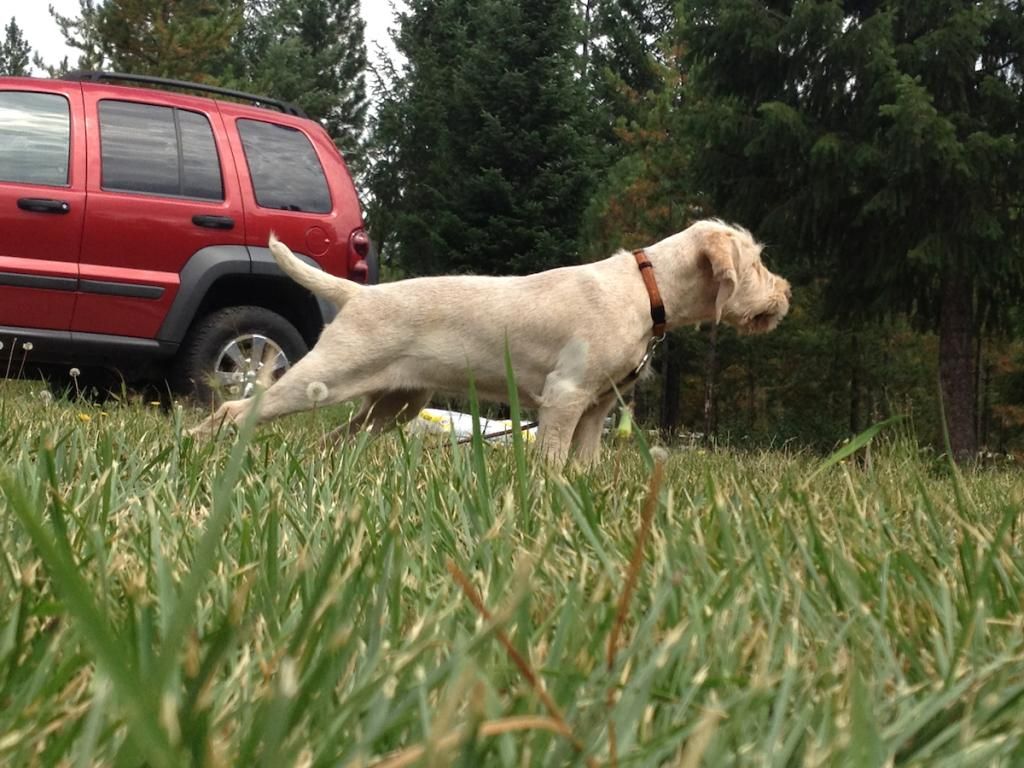 ---
---
We have breed our imported Italian stud, Flash del Subasio, and our brown roan dam Fabrizia. Flash brings us his solid Italian gene pool, complete with 13 show and hunt champions (Italian and International). This is our final breeding for 2014. To access the litter pedigree for "The Borgias Litter" please see the link (below).

We have 1 orange roan girl still available (born April 30th). "Forli" is a birdie high energy girl. She is a more petite size Spinone, and will likely top out at 65-70 pounds. We would like to see her go to a family with an active lifestyle (hiking, hunting, etc.). She is very smart, has a sweet nature, is a bit of a clown, and a talker. Forli is crate trained and very friendly. If you are interested our last puppy from this litter, please contact us via e-mail (below). We have just uploaded a new short video showing how athletic and happy Forli is: http://youtu.be/RYU8mfqHL94


All of our Spinoni have been DNA tested by the AHT (Animal Health Trust in the UK); and are "CA Clear" (Cerebellar Ataxia Clear). This is a rare genetic disease that kills puppies at a young age. Bloodlines that are "CA Clear" never need to worry about this disease.

Our puppies are sold with full AKC registration and HomeAgain microchip registration - we do the paperwork for you. All of our puppies come with puppy shot records, microchip identification, tails docked, dew claws removed, health warranty, information packet, and a familiar toy. We charge $1,800. (for puppies sold at 9 weeks old), and will help facilitate domestic shipping at your expense. At 15 weeks old, the cost for "Forli" is $2,000.

Please let us know what you envision doing with your Spinone. Since each litter has a limited number of puppies to choose from, we will pre-screen the litter for the best candidates for your needs. From that selection we will give you a choice from that group (as long as they last). Please check back with us, we will post puppy pictures on our website as they become available.

We take raising our puppies very seriously. "The Borgias" Litter began their Pre-Potty Training on day 20. By day 26 they were 100% on keeping their sleeping area clean. This begins while they are still in the whelping box (pictured below). This is not full potty training, but it does help speed up the process when your puppy arrives at their new home. All of our puppies are handled everyday (after the 1st week). We start teaching them their names (if that has been decided), "come," "no," "off," "hush," and "go potty." Our puppies have been sleeping in their crates for 2 weeks by the time they go to their new homes. We also pre-screen our puppies for hunting instinct, conformation, and cuddliness, so that we can place the right dogs with hunters, showfolk, families, etc.

Links to Winterborn Spinone Videos Available on YouTube:

**NEW** Winterborn Presents "Forli" Week 15: http://youtu.be/RYU8mfqHL94
Winterborn "The Borgias" Litter Day 25: http://youtu.be/gGGYELjpv8o
Winterborn "The Borgias" Litter Days 13 & 14 Walkin' & Talkin': http://youtu.be/go5pk2Mza24
Winterborn Artist Litter 2014 Highlights from 7th Week: http://youtu.be/RwdFyza6nYgWinterborn Spinone Artist Litter 2014 Comfy Crates - 9th Week: http://youtu.be/AI5E_84etjIWinterborn Shares Teaching the "Go Potty" Command: http://youtu.be/AuD-LLYACeUWinterborn Artist Litter 2014 Playtime, Day 27: http://youtu.be/LkjAjuRuoxgWinterborn Artist Litter 2014, Day 21: http://youtu.be/9QBxL4IHM9Y

Pop-up photos available (below). For more individual photos, please go to our website puppy page:
http://winterbornspinone.com/Puppies.html
---
We wish you all the best in your search for your next companion (or champion).