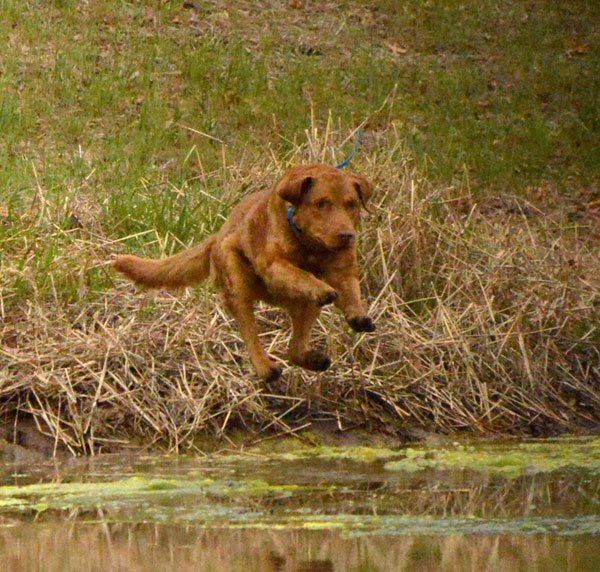 The Wyndham Chesapeake Bay Retrievers represent up to 16 generations of ownership and selection for health, soundness, durable, longevity and easy to train and live with, hard core hunting dogs. Chesapeakes that are, coincidentally, correct for breed type and over all rugged good looks.
Ed Atkins received his first Chesapeake bay retriever female in September of 1953, a couple of months before his 10th birthday and now over 60 years later remains an ardent and serious fancier of the breed and a "crazy hunting fool". Current members of the Wyndham shooting team range downward from two 14 1/2 year olds that have more than earned their keep hunting both waterfowl and upland game, down to a 12 week old that shows every promise of continuing this tradition.
All Wyndham Chesapeakes are tested rigorously to maintain a high standard. The testing begins in the nest when newborns are evaluated for correct breed coat, proper proportions of the front end structure and any obvious faults. As the pups grow attention is taken to observe general vigor, attentiveness to their surroundings, receptivity to human handling, response to early training such as coming on whistle during the weaning process, willingness to give up toys to a human and in general how they fit in with the litter pack and respond to human attention.

Early puppy training here continues through various learning stages and the mental ability to learn and work with the human is constantly evaluated. Youngsters are introduced to game, many new situations, gunfire in the presence of other adults in the pack, retrieving and tracking live game, swimming in various types of water and general boldness. At two years old all wyndham dogs are given a complete skeletal body evaluation (4 xray plates) by board certified radiologists, who provide detailed reports on joint structures, spine and bone density. Animals showing any bone changes in their skeleton; ie degeneration, calcium deposits, remodeling, etc are rejected from the program.

All animals that have proven their worth in the shooting field, at home and any other endeavor are again total body scanned (xrayed) at 8 to 9 years of age with the second set of plates similarly evaluated by board certified radiologists and also compared to the first series of evaluations done 6 to 7 years earlier to note durability and strengths as well as any points of conformation needing attention in future breeding decisions. This xrayng protocol has been used since 1986 and has resulted in a positive change to the number of years dogs from the program are able to work well and stay sound.

Eyes are examined annually by a board certified ophthalmologist. These exams include examination usin g a slit lamp, gonioscopy and an eye pressure test.

STUD DOGS
Ch Wyndhams Unequaled ("Clifford")
This is a large, about 90 pound dog that will be 11 years old in June of 2014. He is still a superb athlete that runs and swims very hard and has proven year after year that he can keep up this fast pace all day long, day after day, all season long. Because of his age it has been decided that he will no longer be offered for use on outside females.
Wyndhams Flashy ("Scruffy")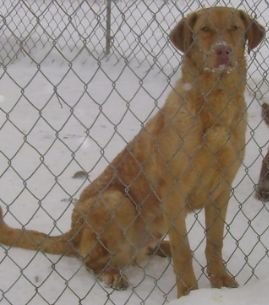 "Scruffy" is a smaller deadgrass colored dog (about 75 pounds). At 4 years old he proven himself to be a determined, tireless worker and able to handle any situation on land or water. His mother was an outstanding bitch that was as rugged as any Chesapeake alive. His sire was an outstanding goose dog from Colorado that represented a wonderful male line kept for work in Montana, Wyoming and Colorado and

a female family from eastern Canada representing some field trial breeding and a female line tracing to market hunting stock in the Conroy Marsh area north east of Toronto. "Scruffy" represents some extremely rare working "blood" giving him every license to sire some excellent hunting stock free of the problems that have plagued the best known fiwld and show lines. His first litter from Wyndhams Helping Hand, a top daughter of the venerable, Wyndhams Raging River, from a purely hunting outcross female, has exceeded all expectations. All of the pups are proper size, athletic and have outgoing and easy to train personalities.

A second female in the home kennel, Wyndhams Instant Impact, a medium size working dynamo by "Clifford" has been mated to "Scruffy" and a May litter is anticipated. "Scruffy" is now offered to a limited number of approved outside females.
Wyndhams Sure Shot ("Beau")
"Beau" at two years old looks to be something very special for the future. He is a strong, athletic, deadgrass son of "Clifford" (Ch Wyndhams Unequaled) and out of a full sister to the Colorado dog that sired "Scruffy" (Wyndhams Flashy). "Beau" has his fathers qualities in many respects and may well turn into one of "Clifford's" best sons. Having completed two shooting seasons he will continue to be carefully evaluated. Like his sire he is a thoughtful worker, calm but high energy and a delight to both work afield and keep at home. When appropriate he will be bred to one bitch in the home kennel to prove what he has to offer. In the future it is hoped that he will make a very strong stud force.
Anyone wishing to learn more about these males should contact Ed Atkins and explain what information they are seeking and why. Please be able to provide detailed information about your female.
GundogBreeders Site Contact Is Not Working!!!!!

Direct Email Address:
ndbirdfinder@yahoo.com