WYNDHAM-WYNDHAMIAN CHESAPEAKE BAY RETRIEVER
(ESTABLISHED IN 1953 BY A HUNTER TO PRODUCE QUALITY HUNTING DOGS)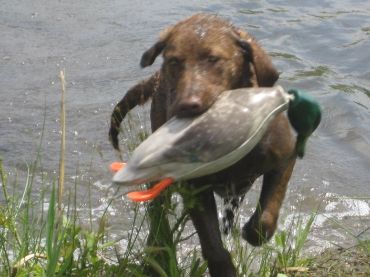 4 Month Old Puppy Training in Colorado
This hobby kennel of work proven Chesapeakes carefully places its emphasis on proven quality never quantity. The program uses and blends some of the oldest purely working families in the breed without care for commercial prominence, largely worthless titles, and ego games. Adhering to the premise that one breeds the best to the best and raises the resulting young in an manner best suited to encourage good health, soundness, longevity and easy to train and live with temperaments, in order to obtain the best possible results. The kennel after 60 years of constant effort to improve the dogs, the rearing, the training and the over all end quality is unique in its use of the very best old working "Blood" and nurturing the pups so that they may attain the best of their unique genetic background. ALL litters are reserved prior to birth by sporting people from across North America and abroad; often to repeat clients and several generations of ownership. Inquiries are always welcome from people who appreciate the background and special care that goes into each pup produced here. Litters are planned to produce replacements in my very active home shooting team and puppies are placed where their talents and personalities fit well. Reservations are accepted from approved purchasers only and placement on the waiting list requires a 50% none refundable deposit. Balance will be due when there is a suitable pup to fit a specific owners life style and needs.
3 Month Old Puppy In Florida
ANYONE WISHING TO INQUIRE ABOUT PUPPIES FROM THESE WYNDHAM-WYNDHAMIAN LITTERS SHOULD PROVIDE THEIR FULL NAMES, WHERE THEY LIVE, A HOME TELEPHONE NUMBER, THE NATURE OF THEIR INTEREST IN ACQUIRING A CHESAPEAKE BAY RETRIEVER AND EXPLAIN WHAT EXPERIENCE THEY HAVE HAD WITH THIS BREED OR OTHER DOGS.
LITTER DUE EARLY AUGUST
Sire: WYNDHAMS EXCELLENCE 3* + called "Tarzan"
(Wyndhams Raging River 13* + called "Ranger"
X Wyndhams Dakota Golden Goose 10* + called "Goldie")
DAM: WYNDHAMS INSTANT IMPACT 2* + called "Special"
(Ch Wyndhams Unequaled 10* + called "Clifford"
X Wyndhams Dakota Dart 4* + callede "Brownie")
Number *= Years Worked += Indicates Still Working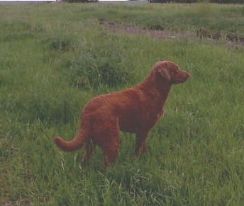 "Tarzan" at Play "Special" watching Geese
Both "Tarzan" and "Special" are leading members of the Wyndham-Wyndhamian hunting team as are both of their parents. Raging River and his brother, Range Rider will be working their 14th shooting seasons this fall. The 10 year olds, Unequaled, and Golden Goose will work their 11th seasons, while "Tarzan" and Dakota Dart will carry much of the load.
This litter should produce sound, durable and hard working pups with loads of style and easy to live with personalities. The very broad pedigree with carefully selected work proven families in depth represents some of the very best working families developed and nurtured by serious hunters in the upper Midwest, the Rocky Mountain States and the Canadian Prairie Provinces during the past 150 years or longer. These now rare strains molded together and constantly individually tested and selected for more than a dozen homebred generations in the Wyndham-Wyndhamian program focused on the needs of hunters who understand and expect quality hunting retrievers.
Winter and spring litters are also planned for 2013/2014 as there are some mighty big older boots to fill in the home team over the next couple of years.