Les Chenils de Ciel d'York - West Virginia Epagneul Breton, French Brittany Spaniel Breeders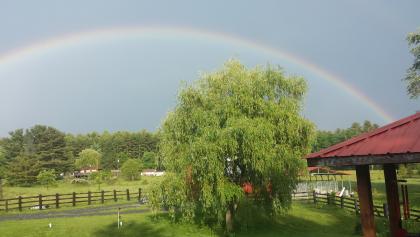 About Les Chenils de Ciel d'York
My wife Katrina and I have retired and have relocated from Texas to Pipestem West Virginia where we have recently purchased a small farm and intend to raise and train French Brittany bird dogs, a breed that we have committed to and love very much be cause of their intelligence and loyalty.
 We hunt our dogs vigorously for upland game birds in the fall and winter and do travel from Montana to Maine and other states as well as hunting ruff grouse where we can at home. We have gone to great lengths to insure that we have some outstanding bloodlines for hunting purposes as well as excellent companions for the home. We do have two started dogs that are eighteen months old and would love to be your friend in the field as well as a companion in your home. As for pups born in 2015, we have only two left from the June litter at this time. These puppies are 2yrs. old on the 21st of June this year. The Sire is from the Hameau Du Sorny Kennel in France and the Dam is from Sainte Keller in Arizona, both are here with us. This litter is pointing quail and ready for training in the field.
 Our last litter 2015 year have all but one orange/white/roan female have found wonderful new homes! She had been living with us in our home and shows great promise in the field. We are happy to announce that Hollywood had her second litter born May 30th this year! There are only two black/white males left from this breeding. The Sire is Buster de Plum Creek, "The Grouse Comander " . We have a new litter born Nov. 9th 2016. The Sire is and awesome hunter/retriever in the field.  The Dam has some champion bloodlines , Please do consider our kennel when you're choosing your hunting companion. Thank you for your interest.
Hunting Dog Breeds Raised
Epagneul Breton, French Brittany Spaniel
Additional Services
Training, Stud Services
Breeder Contact Info
Our Pedigrees
Testimonials (3)
Submitted by: John Nissen on Nov 11, 2017
We have a 5 month old EB from Rich and Katrina. It was so worth the 7 hour drive to West Virginia. Blaze is a fantastic family dog and is quick to learn in the house and field. In the field he is constantly checking back to see were I am and he follows hand signals quite well. He has been finding birds and holding points well so far. Thanks Rich and Katrina for a great Pup.
John, Melissa and Connor
Submitted by: Bill Walter on Jan 22, 2017
Great dog, Rich was in constant contact, and the process was smooth. We're early in with our EB, but things are looking good so far.
Submitted by: Brien And Kelly Duff on Mar 07, 2016
Katrina and Richard are absolutely wonderful! We have a female Epagnuel Breton born in October 2015 and she is perfect. She has a natural retrieve and she is very birdy for a young pup.
The whole process was seamless, Katrina kept us up to date on Leah's progress including pictures (which we loved). They sincerely care about every one of their animals which is great. We couldn't be happier, thank you so much for all that you have done for our family!
Submit your testimonial