Vom Grimm Haus Deutsch Drahthaar (German Wirehair) - Pennsylvania Deutsch Drahthaar Breeders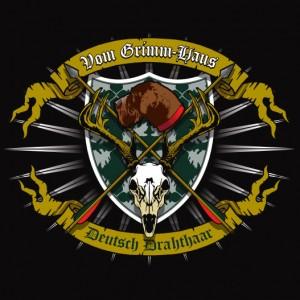 About Vom Grimm Haus Deutsch Drahthaar (German Wirehair)
Vom Grimm Haus is an official German Registered Kennel. We are a family owned and operated Kennel in Pittsburgh, PA. We pursuit mostly all of the Game our State has to offer. Being an ethical hunter requires properly trained versatile gun dogs that can point game to bring the hunter to a calm shot for a quick kill and more importantly, find the game after the shot. All of our Deutsch Drahthaar are German Registered, Tested and Certified for breeding trough the most demanding breed club in the world. We also offer guide services on local hunting preserves for pheasant and chuckar. To learn more about our dogs and us, please visit our web site. www.vomgrimmhaus.com and please Like our Facebook page: https://www.facebook.com/Vom-Grimm-Haus-Deutsch-Drahthaars-and-Adventures-186087383357/
Hunting Dog Breeds Raised
Deutsch Drahthaar
Breeder Contact Info
Testimonials (4)
Submitted by: Dean Leonard on Dec 21, 2016
Four years ago I picked up a male (Achilles AKA Zeke) from the Zarra's "A" litter. He's not only an outstanding performer in the field, but also an affectionate, fun loving, loyal member of the family. He exemplifies all of the qualities of this particular breed and he's up for anything from hiking, kayaking and fishing to laying in front of the wood burner or playing with the kids in the yard. The Zarra's are a great family and Donny is always available to help with training advice, so when you get a pup from them it's like becoming a member of their extended family.
Submitted by: Greta Ceranic on Nov 17, 2016
We received an A Litter pup from Vom Grimm Haus and could not be more pleased. Donny and Jamie Zarra have been very supportive with our first bird dog, making suggestions and assisting with training. They are devoted breeders and have a wealth of knowledge with the breed.
Submitted by: Ben Mitchell on Nov 08, 2016
I started talking to Donny about getting a dog several years ago, we went over what I was looking for and I ultimately ended up with one of his A litter dogs. Arya is a wonderful dog, great with my family at home and a machine when we are in the field. Given that this is my first bird dog, it has been nice to have Donny there to answer any questions that I have. He supports his litters and those who purchase dogs from him so the end product is happy dogs and happy owners.
Submitted by: Jimmy Mullins on Nov 08, 2016
Donny Zarra is very knowledgeable about the Drathaarr
Breed! He has helped me a ton with my dog! Anything from
Obedience to just sum training techniques in the field. I would highly recommend Vom Grimm Haus kennels for your first Drathaar!
Submit your testimonial