Krilohra Brittanys - Ohio American Brittany Breeders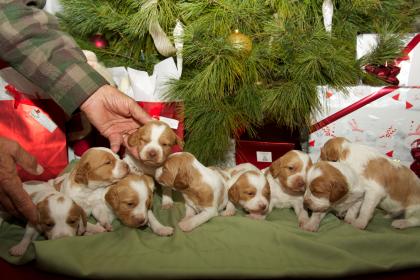 About Krilohra Brittanys
We have owned Brittanys for over 30 years.  When we sold our dairy herd and my husband finally had time to do some serious pheasant hunting we found a pair of Brittany's that just fit the bill. They were litter mates from a dog named Freckles that we located in Pennsylvania.
Lady and Hunter became my husband's hunting partners and our family pets. We spent many wonderful opening days in South Dakota with our two dogs. They also loved being in the boat fishing and spent hours swimming and catching (yes, I said catching) fish in our pond.
It was always our dream to breed Hunter when he was about 10 years old to get another pair of dogs as great as these two dogs. Hunter was a handsome, tall, roan Brittany who should have sired super dogs. Sadly, we lost Hunter unexpectadly before we were able to breed him and carry on his blood line.
In our sorrow, we searched for another male roan to heal our hearts. We could not locate what we wanted, but were lucky enough to find a female roan from Thomas Brittany's out of the Bullet line. We decided to purchase the pup with the intention of breeding her to try to get that male roan we so wanted.
Well, on December 4, 2012, Josie delieverd nine of the most beautiful puppies we've ever seen. Christmas joys... four girls and five boys! We plan on keeping a male and a female  for ourselves, but now have six looking for loving homes. We would keep all of them if we could!
We hope to get these pups placed soon. We do not intend to raise puppies in the future, but are enjoying this experience greatly!
Hunting Dog Breeds Raised
American Brittany
Breeder Contact Info
Testimonials (0)