Killbuck Kennel - Ohio Pudelpointer Breeders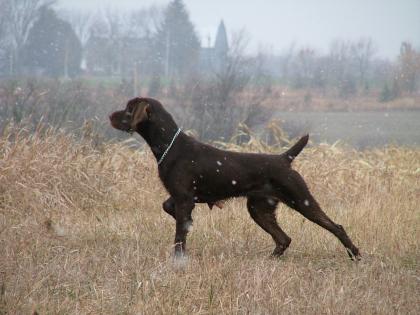 About Killbuck Kennel
Life member of NAVHDA (North American Versatile Hunting Dog Association)
Raise one to three litters of Pudelpointers per year. Sell only to hunters. All dogs tested and registered with NAVHDA.
Subscribe to the North American Pudelpointer Breeders Alliance standards.
www.pudelpointer.org

Hunting Dog Breeds Raised
Pudelpointer
Breeder Contact Info
Testimonials (5)
Submitted by: frank meyers on Jul 12, 2011
My Rocky is a four year old pp from Bill Athens kennel. I can't say enough good things about Rocky. He's a star and I get nothing but complements on him.
Submitted by: robert mohr on Feb 07, 2010
I have a 4yo female from Bill and I can only say that I continue to be amazed by her every day. She is super enthusiastic in the field, she is a joy to hunt with and she is the best companion and friend that you could ask for. She has given me some of the best memories that I could have. Thanks Bill.
A very heart felt thanks to Bill for giving me the chance to have such a special friend and companion.
Submitted by: Rick Rudd on May 26, 2009
I have 2 Males from Killbucks Kennel,an 8 an 3 year old. They both are fantastic hunters and have retrived over 500 birds. There disire in the feild is unmatched and they love the water as well. I will be adding another male to my family soon and I can't imagine not buying from Killbuck's Kennel.
Submitted by: Jim T. on Sep 12, 2007
Bill and Linda are great people. Bill is interested in placing dogs -- not just selling them. My PP has been great and a dream to train and live with.
Submitted by: Calvin on Mar 09, 2007
I have a Pudelpointer pup from Bill Athens. She is a strong pointer, reliable retreiver and excellnet tracker. Her coat is near perfect. She is a wonderful companion in the home. If you're looking for a top notch gun dog and companion, Killbuck's Kennel produces some of the finest Pudelpointers available.
Submit your testimonial