Tabby's Sweet Boykins of North Carolina - North Carolina Boykin Spaniel Breeders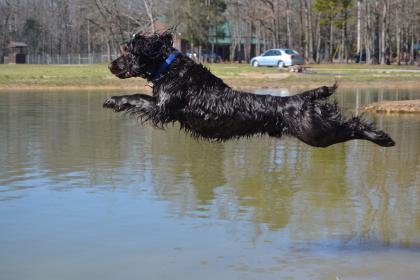 About Tabby's Sweet Boykins of North Carolina
We maintain a small company to insure that each of our dams, sire, and puppies get plenty of love, care and attention.  Each adult Boykin lives in our home and each litter is raised in the house where the puppies health, weight gain, temperament, and natural instincts can be monitored regularly.  We strive to match each puppy with the right owner based on the traits they are looking for.  If we don't have what you are looking for then we're happy to connect you with other reputable breeders.  We strive to breed dogs who are loving and joyful and who can do anything from being your constant companion and family pet to being an agility, obedience, or field trial competitor. We are located just outside of Charlotte, N.C. and have been involved with the Boykin Spaniel Society since 2013 when we got our first Boykin. We have participated in the BSS National Trials since 2013.  We do NOT have any puppies available at this time. My sire, Scamp, is available for stud service.  The fee for a successful pregnancy is $1350.  Scamp has sired four healthy litters of 8, 9, 6, and 10 puppies over the past two years. Health clearances are provided below and a 5-generation genealogy is available upon request. Sire:  Show-Me Scampi Stud (Scamp) BSR 028620 Whelped 08/10/13 HIPS GOOD - OFA 2418G (Scamp's sire has excellent hips) EIC CLEAR - OFA 158 DM CLEAR - OFA 86 EYES CLEAR - OFA 126 HEART CLEAR - OFA 960 CEA CARRIER - OFA CEA99/32-M-PI-CAR VWBII CLEAR - OFA VW29/32M-PI 5-generation genealogy available upon request Dam:  Toney's Laney Belle (Laney) BSR 028375 Whelped 06/01/13 HIPS GOOD - OFA 2393G EIC CARRIER - OFA 156 DM CLEAR - OFA 87 EYES CLEAR - OFA 127 CEA NORMAL - OFA CEA100/34F-PI VWBII CLEAR - OFA VW30/34F-PI 5-generation genealogy available upon request Please text me at 704.839.9692 with any questions you may have.
Hunting Dog Breeds Raised
Boykin Spaniel
Additional Services
Stud Services, Boarding
Breeder Contact Info
Testimonials (2)
Submitted by: Liz Maya on Mar 04, 2016
Tabby is the best. She truly loves and cares for her Boykins. Our puppy is from a prior litter and he is such a wonderful dog - we feel so lucky to have him. We highly recommend Tabby!
Submitted by: John Hood on Mar 03, 2016
I got my first boykin from Tabby and I am very impressed. When we picked our dog (Brownie) up she was already 5 months old. She was an inside dog and already house broken. Tabby cares for each of her puppies and before we left she informed us if for any reason we were unable to keep her she would take her back no questions asked. You can't get much better than that. There is no way she is getting our dog back though. I can not put into words how much I recommend Tabby.
Submit your testimonial