Flying Wild Quail and Pointers - North Carolina English Pointer Breeders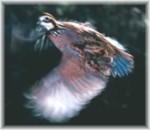 About Flying Wild Quail and Pointers
Flying Wild Quail Farm, Inc 
Offering Top Quality Flight and Weather Conditioned Wild Strain Bobwhite Quail that is always Flying Wild....even on a dewy morning or misty day.
We also offer a fine bloodline of the old "Elhew/Rebel" English Pointer Puppies, Started and Finished Dogs, which has natural hunting instincts and abilities, easily trained at an early age with a strong desire to hunt.  Our started and finished dogs hunt along with you and are natural pleasers. All started and finished dogs are FDSB (American Field) registered, and all litters are FDSB registered.  
For Further Information and Availability of Puppies/Dogs, Please Contact Us by phone  910-975-6156
Hunting Dog Breeds Raised
English Pointer
Additional Services
Training, Stud Services, Birds for sale
Breeder Contact Info
Testimonials (1)
Submitted by: Corey Jones on Jul 13, 2009
I drove 3.5 hrs from Va into Nc, to see these puppies, from just general knowledge of pups, I could tell this litter was well bred. The female that I purchased is only 4 months old and is learning at an extraordinary pace. She is well worth the money and time.
Submit your testimonial