Sapphire Sporting Dogs - Montana Wirehaired Pointing Griffon Breeders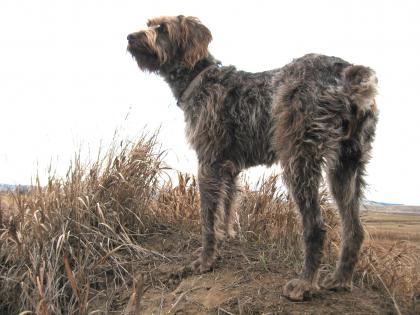 About Sapphire Sporting Dogs
Sapphire Sporting Dogs is a small family kennel focused on producing top quality versatile hunting dogs. Our bitch "Backeddy's Andi" is 3 years old and hitting her prime. I have trained her from day one to be my loyal hunting partner and family member, both of which she excels at. She is a wonderful house pet and family oriented dog that loves lounging with us almost as much as chasing birds. She is out of Eldorado's Ready, Set, Go and Simon Von Herrenhausen. She is a striking female with a medium long, medium harsh, outer coat, and a dense undercoat. She has full facial furnishings with a tri-colored head which includes grey, liver and blond highlights. She stands 22 inches tall and weighs in at 53 lbs in field condition. OFA results are Excellent for hips and Normal for elbows. Andi has a remarkable nose, whether using it in the field or in the duck marshes and has a phenomenal drive. She will range out to find birds in the open prairies, thick brush and heavy cover.
Andi was bred to VC Griffe D'Automne Mr. Brown (Jacque) (http://www.gundogbreeders.com/classifieds/7940.html) in mid-December and we're expecting a litter of Grif pups in mid-February. On Sept 19, 2009 Jacque became only the 19th Griffon in the history of NAVHDA to achieve Versatile Champion status, adding the crown jewel to an already amazing career. He earned a NAVHDA NA PR II, NAVHDA UPT PR I, NAVHDA UT PR I 204, all before he was 2 years of age! And now at a little over 2 1/2 he has added the title of Versatile Champion!
This mating pair will produce excellent pups with strong confirmation, nose, drive and desire that will love water and spending time in the field. Both dogs show strong working traits including cooperation, intelligence, ease of trainability and above all loyalty.
Please contact of with questions and inquiries about the upcoming litter.
Hunting Dog Breeds Raised
Wirehaired Pointing Griffon
Breeder Contact Info
Testimonials (0)