montanabirddogs - Montana English Pointer, German Shorthaired Pointer Breeders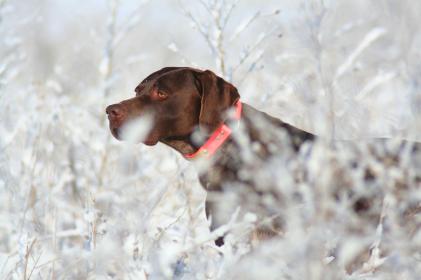 About montanabirddogs
We breed the finest German shorthair & Elhew English pointers around. Our dogs are bred to point, back and retrieve naturally.We train and field trial spring through summer, in the fall we turn our attention to the prarie grasses of eastern Montana, where we hunt, pheasant, sharptail, and huns til the end of the year.Our dogs are our family members, as well as our hunting partners, they have had and will have a 100 plus wild birds shot over them. We offer complete training using the Rick Smith theory....Stud service to Well Bred females Only....
Hunting Dog Breeds Raised
English Pointer, German Shorthaired Pointer
Additional Services
Hunting, Fishing, Training, Stud Services
Breeder Contact Info
Testimonials (4)
Submitted by: Eric Rouse on Mar 05, 2016
After researching and communicating with dozens of gsp breeders across the US and abroad via phone, email, and text, and viewing hundreds gsp pictures; we purchased our new family member, hunting and sporting companion from Ron Loomis and Montana Bird Dogs. Our little Augie is now 15 weeks old and is the best dog ever. Augie is the real deal and now lives, plays, and hunts in KS. He is extremely lovable, intelligent, trainable, athletic, beautiful, and trusting. He is great with kids, other dogs, and adults and has non-stop energy. Ron cares for and knows his amazing gsp's and teaches others. He cares who and where they go to and how they are being cared for before, during, and after the adoption. His patience, kindness, and advice is unsurpassed! These dogs are beautiful, intelligent animals; if you don't have the time, patience, love, and understanding of what they need to be happy, don't get one. They are the best in the world and deserve the best owners in the world! Thank you Ron, we couldn't be happier and wouldn't change a thing with Augie. Our next dog will come from Montana Bird Dogs hands down.
Submitted by: Dennis Martinen on Feb 11, 2012
I purchased a 10 week old GSP from Ron Loomis and recommend him at the highest level. He knows his dogs and maintains them at the highest level. He is a real animal person and loves what he is doing. My pup now over 6 months is a kind hearted, people loving dog that relates well to other dogs and any person. He is bright, socially well adjusted and likes the birds. When I buy another dog you can be sure that Ron Loomis will be the first person I will talk to as I view him as having great dogs and the highest Integrity.
Submitted by: Clay Morton on Dec 15, 2011
"Chester",my Tick and Roxy pup, has now had his first full season of upland hunting. What can I say, truly amazing gsp. He holds tight, retrieves naturally, and has absolutely no quit in him. His disposition is fantastic, and he is a joy to be around, great with other dogs and children. I highly recommend a gsp from Montanabirddogs.
Submitted by: Bailey on Jun 28, 2010
Everything you would expect from a top notch kennel.Always checks in to see how the pup is doing.Goes beyond expectations as far as answering questions,training advice and knowledge of the breed.Has maintained tight line breeding through generations. An absolute pleasure to deal with across the board.There needs to be more breeders like this.A wonderful trainer as well. A top notch kennel operation as well as excellent knowledge and attention to every detail to help new owners throughout the new ownership process.
Submit your testimonial