FARMROAD.COM - Minnesota Labrador Retriever Breeders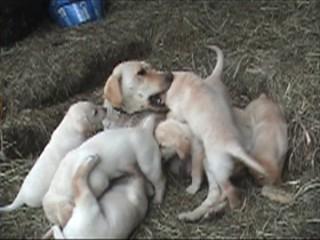 About FARMROAD.COM
GO TO FARMROAD.COM TO SEE MORE AKC IVORY LAB PUPPIES IN MINNESOTA
WE ARE A SMALL FAMILY BUSINESS, RAN WITH LOVE AND CARE FOR ALL OF THE ANIMALS WE PRODUCE. WE RUN OUR BUSINESS WITH HONESTY, INTEGRITY AND GOOD INTENTIONS FOR ALL.
ALL OUR PUPPIES ARE AKC REGISTERED YELLOW LABRADOR RETRIEVERS. THEY ARE PURE IVORY, WE DO NOT GET BLACK OR CHOCOLATE PUPPIES.
OUR PUPPIES ARE ALWAYS SMART, CALM, EASY TO TRAIN AND ARE GREAT INDOOR PETS AS WELL AS OUTDOORS.
PUREBRED LABRADOR RETRIEVERS WITH A FINE PEDIGREE ARE BY NATURE EXCELLENT HUNTERS, WE LEAVE THAT TRAINING TO YOU.

ALL OUR PUPPIES COME WITH VET DOCUMENTS, MICROCHIPPED, SHOTS RECORDS, WORMING RECORDS, AKC PAPERS, AKC LITTER CERTIFICATE, WRITTEN HEALTH PROMISE AND OUR RESPONSIBLE BREEDERS GUARANTEE .
Hunting Dog Breeds Raised
Labrador Retriever
Breeder Contact Info
Testimonials (0)