Hawley Kennels - German Shorthaired Pointers - Michigan German Shorthaired Pointer Breeders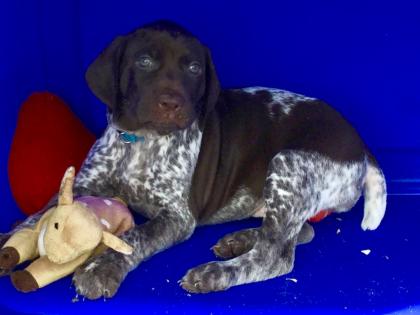 About Hawley Kennels - German Shorthaired Pointers
Stella/Loki Litter.
Beautiful puppies available, male's and female's. This breeding is a an excellent cross and has produced some stunning puppy's that have exceptional color. Both the Dam and Sire have great Confirmation and Hunting Style. They have great Temperaments, Personality and Drive. They are AKC Registered. The Dam, Stella is a beautiful, Liver and White, Patched and Ticked female, with fantastic blood lines. Champions in both show and field. The Sire is an especially well marked Liver and White, Patched and Ticked male. His entire background consists of dual quality dogs. Most of his pedigree are Kleeman dogs. They're good sized dogs that are close range hunters. Most of his pedigree leads back to Hege-Haus lines. What stands out about these dogs is their ability in the water, strong retrieving and they're much calmer than most lines of GSPs. His dam is Bona's Luna ( Daughter of Balzac / Balzac is an International Champion. He is an extraordinary example of a German Shorthaired Pointer.). Balzac has an incredible pedigree. You can look up Balzac's line at: http://www.nidauxnobles.ro/franceza/hailleauloupfr.htm . He has some of the best French dogs in his pedigree. His dam was a vice-champion of France. His sire was a dual champion. His sire and grandsire are among the best known dogs when it comes to French GSPs and overall top GSPs across Europe.
This line has strong natural pointing, retrieving, and backing instincts along with the great personality and conformation needed to make an exceptional hunter, companion and family pet. These dogs hunt with style and grace along with providing the performance the serious hunter demands. The tails and dewclaws were docked at a very young age. Current vaccinations and health checks. Guaranteed to be healthy and well socialized. The puppy's will be handled from birth and played with everyday by us. They will be introduced to the water. Call or text: Rosemary at: 269-804-9404

Hunting Dog Breeds Raised
German Shorthaired Pointer
Breeder Contact Info
Testimonials (2)
Submitted by: jack@bgcommunities.com on Apr 19, 2016
Fantastic dog, I got Oliver in April this year (2015). I have had him less than 2 weeks, and he is already pointing, is house broken, responds to here and sit commands. Beautiful dog and is great with my children. I'm really looking forward to getting him into the field this fall. Highly recommend buying a dog from this breeder.
Submitted by: Tom Keatley on Apr 16, 2015
I bought a male pup from Rosemary in August 2014 and just wanted to say that I could not be more pleased with my boy "Zip". He is a beautiful well bred boy. Zip is almost 10 months old and I have taken close to 50 birds over him. Zip has a great nose, excellent point, retrieve, and loves water. Zip is a very friendly, loving good natured dog at home, but turns into a hunting machine when the time comes. Rosemary was a pleasure to deal with, you could not ask for a better, more honest person than she is. If you are looking for a quality GSP pup, she is a great lady to deal with. I can not wait till the fall and Grouse season with my buddy Zip.
Tom K.
West Virginia
Submit your testimonial