Dun Roven Kennels - Michigan English Setter Breeders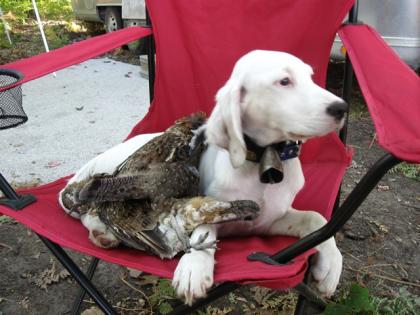 About Dun Roven Kennels
Breeding English Setters for the foot hunter and walking field trial enthusiast.
Pups and started dogs available
Hunting Dog Breeds Raised
English Setter
Breeder Contact Info
Testimonials (4)
Submitted by: Bill Nettles on Feb 26, 2014
This All-American family enjoys the excellent reputation which they deserve. Rich has helped me a great deal with my dogs. Probably no one knows the Gladwin grounds, or where to hunt, better than he, Jenny, and the 3 young ones. In Michigan and bordering states, even nationally, you find DunRoven influence in the pedigrees of good competition setters, particularly cover dogs hunting wild birds. The dog I acquired was a beautiful mild mannered and highly skilled shooting dog named Cav. Cav now goes by the name Billy and is about 6 y.o.
Submitted by: Jeff Tabeling on Dec 18, 2007
I have purchased 5 pups from Dun Roven Kennel. My first pups came from Rich's partner the late Chuck Pagano. All of the dogs are not only outstanding hunters but fantastic family dogs. My latest dog is Patch and she is 4 1/2 years old. I hunt in Iowa with her and it is amazing to see her work a bird and point. These dogs are some of the finest hunters with excellent noses and instincts. I plan on getting another pup this summer. Thanks for maintaining such excellent bloodlines Rich!!
Submitted by: Dale Ash on Jul 23, 2007
Purchased a female english setter from Rich in 2006. She has been a great hunting partner in the woods the dog works the woods awesome. She has been great in and out of the house and with the family. My brother has also purchased a dog from Rich. Rich is always willing to help you out with any questions you have as well. Dun Roven Kennels is a great place to buy a english setter.
Submitted by: Ken Young on Feb 06, 2007
The best breeder around. My family has bought 2 pups from Rich in the last 3 yrs and both dogs hunt identically. If your looking for an English Setter you have come to the right place. By far the best hunting dogs we have ever owned. Thanks Rich for breeding such great dogs.
Submit your testimonial