CLASSIC POINTE KENNELS - Michigan English Setter, German Shorthaired Pointer, Labrador Retriever Breeders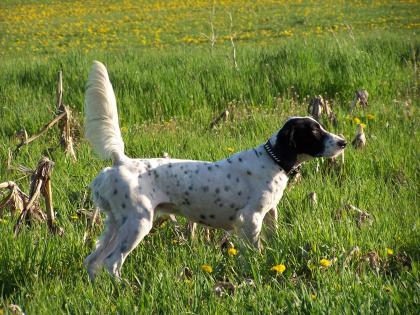 About CLASSIC POINTE KENNELS
WE BREED FOR THE HUNTER AND FIELD TRIALER,OUR ENGLISH SETTER LINES, GERMAN SHORTHAIR LINES AND LABRADOR LINES ARE SOME OF THE BEST IN THE COUNTRY.
Hunting Dog Breeds Raised
English Setter, German Shorthaired Pointer, Labrador Retriever
Additional Services
Training, Stud Services
Breeder Contact Info
Testimonials (4)
Submitted by: Amy Sieniarecki on Oct 31, 2012
In 2008 I was looking to replace my current service dog which was a setter that had a brain tumor. I went to Classic Point Kennel just to take a look a the kennel and the pups. The staff there was great they got the stud of the litter out and demonstrated his hunting abilities and Scooby was great on such a hot day. The kennel were very clean and didn't smell at all. They let me play with the pups for as long as I wanted. I came back latter to look at the pups one more time to make a choice then came back tp pick Pennie up.... Pennie started to point one week after I brought her home and took basic training right away. At four months I took her on her first bird hunt at a ranch and not only did she point out all of her birds but three more pheasants. As for a service dog, she became a full service dog at 16months has saved my life more than once.... Truly a great dog..
Submitted by: Jeff Case on Nov 20, 2009
I purchased a female shorthair from the Ramrod x Hi Points Faith litter and I am extremely happy. The puppy has a great personality, she loves birds and she minds very well. I had high expectations for this puppy and she has surpassed them. I would highly recommend Classic Point Kennels to anyone interested in a top notch hunting dog.
Submitted by: Andy Ott on Aug 25, 2007
I JUST WANTED TO AGAIN SAY THANKS! TO JOHN FOR THE GREAT SETTER I PURCHASED FROM HIM. "GUS" IS ONE OF THOSE RARE SETTERS THAT I REFER TO AS A "CRACKER JACK" THAT ARE FAR AND FEW BETWEEN. STYLE, BRAINS, AND WILL GO ALL DAY LONG. JOHN KNOWS HIS DOGS AND IS AN HONEST AND GREAT GUY TO DEAL WITH. I AM VERY PLEASED WITH MY PURCHASE AND WILL BE DOING BUSINESS WITH HIM AGAININ THE FUTURE AND WOULD RECCOMEND HIM TO ANYONE--THANKS AGAIN JOHN!
Submitted by: Roger Gaynor on Dec 19, 2006
I purchased a pup from Classic Pointe Kennels this past spring and I am extremely impressed! "Kady" is a wonderful addition to my home and has tons of potential. She is currently back with John Griffiths at Classic Pointe Kennels for some training and I am very confident I will have an excellent hunting partner when I get her back. Johns dogs are brilliantly bred and are very smart, I would recommend to anyone interested in purchasing a good tempered, smart, driven hunting dog, contact John Griffiths at Classic Pointe Kennels they will not be disappointed. thanks again John, I couldn't be happier! Roger
Submit your testimonial