McDee Labrador Retrievers - Iowa Labrador Retriever Breeders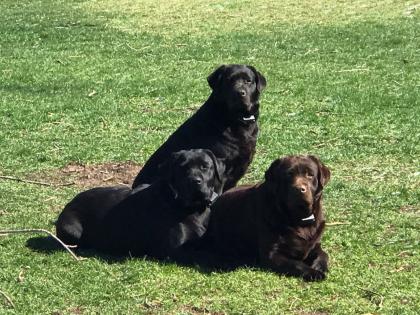 About McDee Labrador Retrievers
AKC,OFA,CERF,PRA & EIC clearances. We maintain three adults.
We strive to produce an all around english style labrador for the showring, hunting companion and working service dogs. Many of our labs are currently involved in search and rescue, bomb and drug detection, therapy, assistance and other services. We have selected our bloodlines to incorporate some of the top conformation labradors of recent times and we continue to set our sites on breed improvement. We plan 1 litter a year, special consideration is given to socializing our pups with daily handling and we proudly offer a well rounded puppy with an exceptional attitude.
Visit our website for more about our labradors and our lines...
Hunting Dog Breeds Raised
Labrador Retriever
Breeder Contact Info
Testimonials (2)
Submitted by: Darrell Bullard on Sep 30, 2013
We just received Tug from the Tenderheart Kennel. You have done an excellent job developing the breed. We fell in love with his picture on the internet and it just keeps going. He is wonderful. Loves everyone he meets and steals there heart immediately.I know he will be a great joy in our life.
Submitted by: lynn hansen on Jul 22, 2012
Our family purchased buddy a year and a half ago he is the best!!!no health problems_highly recommended
Submit your testimonial