Moonlight Bay Chesapeakes - Indiana Chesapeake Bay Retriever Breeders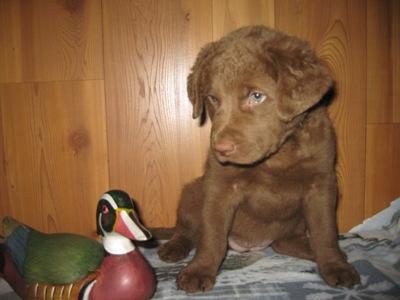 About Moonlight Bay Chesapeakes
We are a small hobby breeder of Chesapeake Bay Retrievers since 2007. We thrive to produce well rounded Chesapeake Bay Puppies for hunting, conformation, field competitions, obedience, tracking, agility and most importantly, healthy and temperamentally sound companions. We are located in North East Indiana about 40 miles south of Fort Wayne, Indiana. We are situated within 25 miles of many state parks and recreation areas. We are members of the AKC/UKC and our parent club American Chesapeake Club. We particiapate in both AKC/UKC conformation and Hunt Tests We are planning our next litter spring 2017. Please see our website for details.
Hunting Dog Breeds Raised
Chesapeake Bay Retriever
Breeder Contact Info
Testimonials (2)
Submitted by: Linda Hardoon on May 15, 2015
I bought Maggie from Moonlight Bay Chesapeake 3yrs ago and she is the most wonderful chessie. Maggie is very intelligent and knows what you want by just looking at you. She is a quick learner and was easy to train. She is very agile and has climbed on a huge stack of hay bales I keep in my barn in a second!! She is always the first to jump in the water and loves to retrieve. Maggie is my first female chessie(I have 2 male chessies also) and I honestly don't know how I would live without her.
Submitted by: Heather McCullar on May 14, 2015
I got my baby girl from Gail, her name is Ellie. She is perfect. Dealing with Gail was easy also. I send her pictures on Facebook. I would definitely buy from her again. My baby girl is perfect in every way. I lost my chessie to a house fire on 12/12/14 and Ellie is a great replacement.
Submit your testimonial