V Bar K Vizslas - Idaho Vizsla Breeders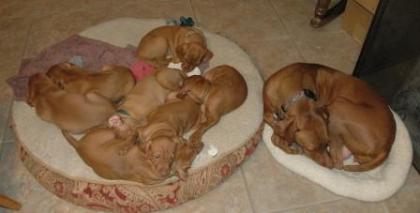 About V Bar K Vizslas
Thank all of you who have bought our pups!!! They are amazing!!! We are not planning any litters at this time. We kept one of the pups from the last litter and our concentrating on getting him trained for hunting & agility. We also double registered him with AKC & NAVHDA. Again thank you.
Hunting Dog Breeds Raised
Vizsla
Breeder Contact Info
Testimonials (2)
Submitted by: Joe Nelson on Dec 02, 2011
Agreed. Got my pup last January, at 11 months he holds point, retrieves well, and has a great temperament. Be prepared for compliments when going on walks. Can't say how many times somebody has stopped us to take a look at him. Good dog, good breeder, good deal.
Submitted by: Joen Nelson on Nov 19, 2011
We got our Vizsla from V Bar K almost a year ago and he is more than we could have asked for. He listens extremely well, does very well in the field, and is the best house dog. If you are looking for a tough, durable field Vizsla this is the breeder to go with!
Submit your testimonial