Sonoran Braque Francais - Arizona Braque Francais Breeders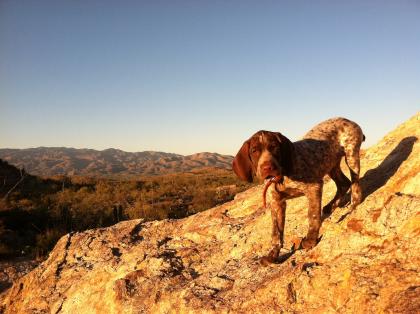 About Sonoran Braque Francais
Sonoran Braque Francais is a family breeder of Braque Francais Pyranees located in Tucson, Arizona. We are just starting out with our male, Caes, and female, Tache. Caes and Tache are wonderful members of the family who love to be in the mix with the kids in the home and turn into incredible hunters in the field for the various species of quail we hunt in Arizona. Caes and Tache come from great lines and have OFA hip and eye certifications. Please visit our Facebook page for more information about us www.Facebook.com/SonoranBraque. We are expecting our second litter of pups to arrive early April! Now accepting deposits.
Hunting Dog Breeds Raised
Braque Francais
Breeder Contact Info
Our Pedigrees
Testimonials (2)
Submitted by: Patrick Hunt on Mar 22, 2017
I couldn't be happier with both Sonoran and the puppy we were fortunate enough to get from this breeder. As Maverick's trainer said, "You have a very special dog here and I don't say that very often."
This pup was well prepared and, in fact, ahead of the curve, which accelerated training. I'm hunting behind him at 9 months and his drive, nose and retrieve abilities are far exceeding my high expectations. And he's a great family dog on top of it all.
Christina and Charlie did a great job. I think it really comes down to how much they care and it definitely shows.
Submitted by: Robert Poor on Mar 21, 2017
Great people with great dogs. If you're looking for the ultimate foot hunting, home and family friendly pointer with immense bird drive this is the breed for you. If you're looking for the ultimate compassionate, caring, conscientious breeder, this is the breeder for you. They have a clear passion for the breed and the sport. This is not a backyard, substandard breeder. The pups are well looked after, receive appropriate vet visits, and are well socialized. I could not have been happier with the litter, and ultimately the pup I selected. They were patient with me and aided in selection based on my needs and life/hunting style. They truly care and I have no qualms about utilizing them in the future, or recommending them.
Submit your testimonial